Availability
Season
From
To
To
Price
Peak Season
2017-12-10
2018-01-05
Per Night
R1,615.00
2018-12-13
2019-01-02
Per Night
2019-12-16
2020-01-05
Per Night
High Season
2018-01-07
2018-01-13
Per Night
R1,040.00
2018-03-29
2018-04-01
Per Night
2019-01-03
2019-01-09
Per Night
2019-04-19
2019-04-21
Per Night
2020-01-07
2020-01-13
Per Night
Out Of Season
2018-01-16
2018-11-30
Per Night
R505.00
2019-01-10
2019-12-04
Per Night
Mid Season
2018-04-02
2018-04-08
Per Night
R765.00
2018-04-26
2018-04-30
Per Night
2018-04-27
2018-04-30
Per Night
2018-06-23
2018-07-15
Per Night
2018-08-09
2018-08-11
Per Night
2018-09-21
2018-09-23
0,1,2,4,5,6,3
2018-09-28
2018-10-07
0,1,3,4,5,6,2
2018-12-01
2018-12-11
0,1,3,4,5,6,2
2019-03-15
2019-03-31
Per Night
2019-06-14
2019-07-07
Per Night
2019-08-08
2019-08-10
Per Night
2019-09-20
2019-09-29
Per Night
2019-12-05
2019-12-15
Per Night
General
Summer Place 12 – Shelly Beach.
Summer Place 12 is a top, second floor in Shelly Beach. The accommodation comes supplied with DSTV selective channels.  This six sleeper self catering flat is in a well maintained sea front complex. Perfect for ski-boaters and fishermen as "Sonny Evans Small Craft Harbor" is next to the flats. Walking distance to Shelly Centre, restaurants, shops in the area and close to "The Mall". There is a lovely breaker sea view over the swimming pool.
The main bedroom has a double bed and ensuite bathroom with a shower and sliding doors to the patio. The second bathroom has a bath. The second and third bedrooms have 2 single beds.
Check-in time
From 14:30pm
Check-out time
Before 9:30am
Facilities
4 Plate Stove
Balcony/Patio: Covered
Bathroom-(en-suite) with - Shower only
Bathroom-(shared) with: Bath only
Beach Distance - 0m-50m
Bed Linen Supplied
Breaker Sea View
Ceiling Fan(s): Lounge
Communal Braai
Does Have Stairs
DSTV: Selective channels only
Establishment is: Child Friendly
Establishment Level: 2nd Floor
Fridge
Fully Fenced
Kettle
Large Sea View
Microwave
Oven
Secure Complex
Stunning Sea View
Swimming Pool
Toaster
Undercover Parking
Visitors Parking
Shelly Beach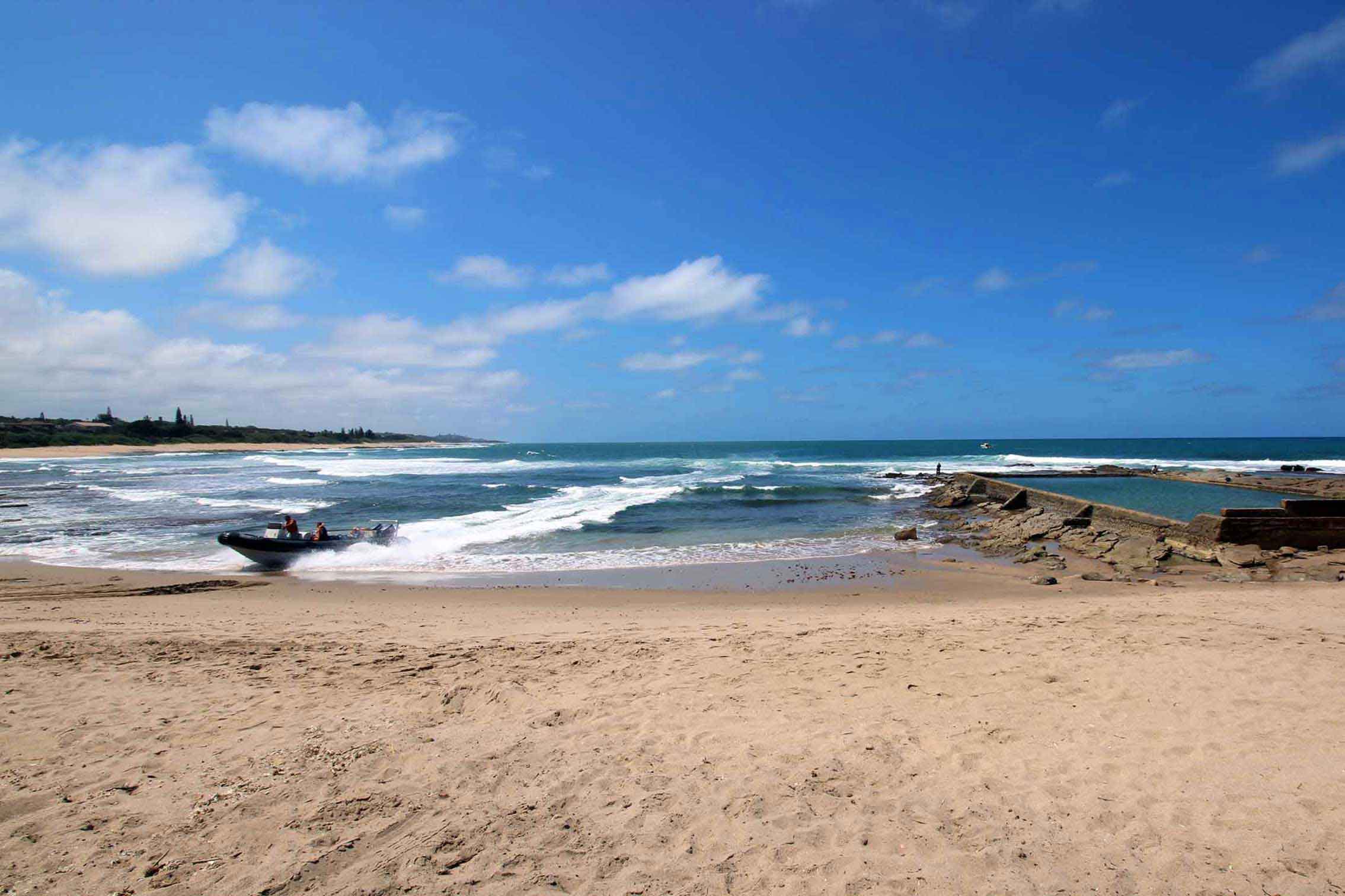 Shelly Beach in KwaZulu Natal is named after the abundance of sea shells that wash up on its beaches. There is a tidal pool at the small craft harbour and stretches of beautiful stretches of beach with fantastic rock and surf fishing. Located between St Michael's on Sea and Port Shepstone and only about an
---
Read more